Why Suffer Alone: Overcoming Negative Thoughts, Overthinking, Panic Attacks, Depression, Stress and Social Anxiety
Some lessons in life we can learn by studying articles, doing our research, reading books, and even attending workshops. Others are learned through experience, by getting hurt or bruised by what life throws at us. Everybody is different and finds their teachings in different formats, different mediums, and in different phases of life. It doesn't matter at all where you find the help and support, the advice and guidance you need. The only thing that matters is that you do go out and find it when you are ready to change your present and future.
What this book shares is the life lessons of someone who has spent many years in the dark cloud of depression, anxiety, and elevated stress levels. It was a life of disempowerment, of thriving on the victim mentality, and of endless suffering without purpose. It was also a time of bondage, of bad memories stored away right in the top drawer of the memory bank, ready to be flipped open and shared whenever possible, ready to disempower whenever it could.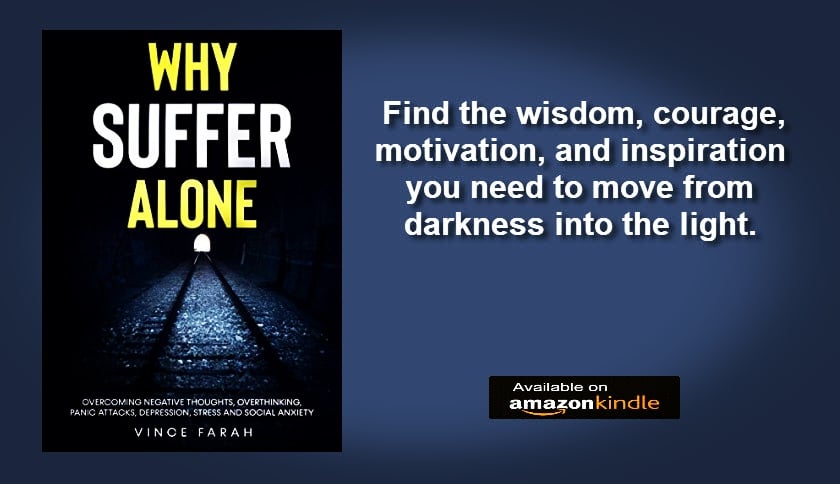 It is, however, also a story of hope, one that started when fears were faced head-on. When you opt to run from your fears, you will always be chased. Hence, the advice, tips, guidance, and practical examples shared in this book are from a life of overcoming victimization and the freedom you, too, can enjoy when you take responsibility for your life.
The hope is to help you find the wisdom, courage, motivation, and inspiration you need to move from darkness and into the light.
My question to you is, Why Suffer Alone??
DOWNLOAD/LISTEN/GET YOUR COPY OF Why Suffer Alone: Overcoming Negative Thoughts, Overthinking, Panic Attacks, Depression, Stress and Social Anxiety.
In Why Suffer Alone, you'll discover:
What is Stress, the 5 Stages of Stress and how to look out for them
The Cycle and challenges of Change
Panic Attacks, What Happens in Your Body When You Have a Panic Attack and how to Get Through a Panic Attack
Depression—A Cause or an Effect
Your Brain and how it Adapts to a Change of Perspective
How Neuroplasticity Works and How to Use is to Your Benefit
Expand the Horizons of Your Emotional Intelligence
Your Self-Talk, it's purpose and Adjusting the Tone of Your Inner Voice
What is Overthinking and how to Know the Signs
Why Negative Thoughts Trap Our Minds Much Easier
Role of  Desire and Expectation
How to Set Yourself Free From Negative Thinking
How to Break Bad Habits
The Importance of Living in the Moment
How to Overcome Social Anxiety and Build Your Network of Support
Meditation, how it works and how to Meditate
The Importance of Visualization
Mindset Growth Hacks
PLUS, WE'LL TAKE A DEEP DIVE ON Freedom and What it Truly Means to be free
There are several practical steps, real life examples, tips and stories to help with different learning styles, grab your copy of Why Suffer Alone today! Take back control of your life,
If you are ready for change Click on your Selected Format and Retailer link on the Home Page then once there, click the "BUY NOW" button!
how to overcome depression
how to overcome Anxiety
how to overcome Stress
how to overcome Fear
how to overcome Negative Thoughts
How to deal with depression
How to deal with depression and anxiety
How to deal with depression at home
How to deal with anxiety
How to deal with Negative Thoughts
Stress anxiety depression relief
Panic attacks and anxiety relief
"I am in my sixties and found this book a worthwhile read. Young or old we can all relate to the content. "
"I found a lot of excellent and well-organized information (that is fully referenced) in "Why Suffer Alone: Overcoming Negative Thoughts, Overthinking, Panic Attacks, Depression, Stress and Social Anxiety" by Vince Farah, a computer network engineer who, in my opinion, is an exceptional and very professional writer who provides outstanding, practical, and focused information to a happier life."
"Such a great read and very relevant and relatable. Both informative and giving very good advice at the same time. I would highly recommend this book!"